About
Weber's Bakery is one of the oldest family-owned retail bakeries in Chicago. The founder, Erich H. Weber, came to Chicago as an immigrant from Germany in 1924. In 1930 the original bakery was opened at 45th and Kedzie, in the heart of Chicago's Southwest Side. In 1937 it was moved to a larger building at 63rd Street and St. Louis Avenue. Erich H. Weber was a founding member of The Baker's Dozen –a group of non-competitive retail bakers from the Midwest who met to share ideas, formulas, issues and concerns pertinent to their business of retail baking. The group continues to this day.
Son Erich R. Weber, began working in the bakery as a child. After high school he attended Florida State University where he studied Baking Science. In 1957 Erich R. Weber became a partner in the bakery. In 1979 he fulfilled his dream to build a new bakery at the present location – 7055 W. Archer Avenue. Son Michael L. Weber grew up in the family business and upon graduation from Michigan State University joined the business in 1982. Father and son enjoyed working together for 15 years. The business grew due to a commitment to provide the freshest, highest-quality baked goods, along with courteous and prompt service every day of the week, every week out of the year. When Erich R. Weber retired in 1997, Michael L. Weber took over the bakery.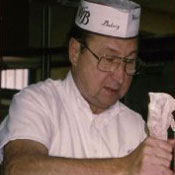 As the 3rd-generation in a family-owned business, Michael L. Weber respects the values established by his father and grandfather. He is committed to his family's bakery, to a Chicago tradition, to his baked products, and always to his customers. All breads, cakes and pastries are baked without preservatives and baked fresh daily 6 days/week. Forgoing opportunities for wholesale business or multiple locations, Michael L. Weber chooses to follow the high standards set by his father and grandfather – namely, the highest-quality retail baked goods, along with superb customer service.
Daughter Rebecca R. Weber also grew up in the family business and worked at the bakery consistently throughout high school and college. She became an elementary school teacher, but she never could get the bakery out of her system. After four years of teaching, Rebecca changed careers and decided to join her parents at the bakery permanently. She attended and graduated from the French Pastry School in 2012. Rebecca is committed to keeping the bakery moving forward into the 21st century while maintaining its high standards for product quality and customer service that were established so many years ago.